Carolina Khouri
carolina@carolinakhouri.com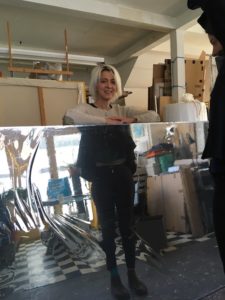 Carolina Khouri in her studio with Alice Mason.
She is a Polish – Lebanese artist based in London. She lives and work in North London warehouse district.
She graduated as an interior designer from London Collage of Communication – The University of the Arts London and completed MA in Polish Studies at Warsaw University.
In 2012 – 2018 she was a director of Haringey Arts CIC. She joined artists' group 'Page 6' in 2011 and she became a member of 'The Magma Group' in 2013.
For her art and bio, please explore the website !
All work on this site is licensed under this Creative Commons Licence: